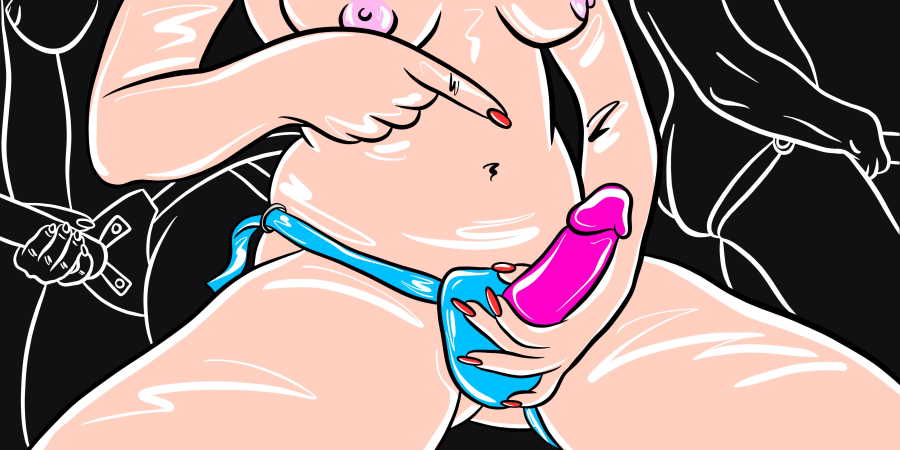 Illustration by the amazingly talented Amie Wee from heyweeirdo
I love strap-ons. As a lesbian top who loves to have her hands free to wander and explore my partner's body during sex, I worship at the altar of strap-ons.
Strap-ons are undoubtedly one of the best sex tools to ever exist, yet bizarrely, they're also one of the most underrated.
There's a lot to love about strap-ons. They look hot, they feel incredible and they're extremely versatile when it comes to sex in that they can be used by anyone – any which way – including bend-over-boyfriend pegging fun, double penetration, hollow strap-ons for chastity kinks, self-play, masturbation and they can also worn for gender expression or affirmation. And for lesbian, bisexual and queer women, like myself, incorporating a strap-on into your sex life can be a gamechanger for not only subverting stereotypical gender roles (hot!), but also for opening a lusty labyrinth of doors to new sex positions, power and potential. And who doesn't love that?
But if you've never used a strap-on before, it can be kind of intimidating. How do you pick a harness? What size dick should you pick? How do I ask someone in a chill way if I can insert my strap-on dildo into them? And most importantly, how do I fuck someone confidently with a strap-on without it turning into a comedy of strap-on errors?
Don't worry, I got you! Here are four of my hot tips for strapping it on for first timers and staying strap-happy.
Pick a strap-on that suits your needs
Once upon a time, if you wanted a strap-on, you'd have to go into a sex shop where you would usually be presented with the option of one (or maybe two if you were lucky) dusty, crusty, high-waisted, plastic strap-ons – and that was it.
Thankfully, strap-ons have evolved a lot these days, to the point where it can actually be a bit overwhelming for a first time strapper to know where to start.
In the strap-on strap-osphere you'll find jockstrap strap-ons made from leather, lace, rubber, rope, vegan leather and neoprene. There are strapless harnesses, double penetration strap-ons, hollow harnesses, under-wear-style strap-ons and g-string harnesses, as well as various styles of strap-ons with dildos and vibrators built in for the wearer.
Ultimately, you're going to want to pick a harness that fits like a glove while also making you feel like a sexy beast.
As a general rule, I recommend start with a traditional jockstrap style harness as these types of strap-ons are perfect for beginners because they're usually easily adjustable and sturdier for sex than their g-string, underwear or harnessless counterparts.
Pick A Dick
Obviously no strap-on set up is complete without the perfect dildo.
Another benefit of using a strap-on is that you get to pick your dream dick. Strap-on dildos come in a million sizes, shapes, materials and colours. Some resemble real penises, while others don't. The type of dildo you pick for your harness is a personal preference, but if you have a partner, I recommend going on a dildo shopping adventure together as they might want a say in what's going inside them.
There are generally three things I suggest considering when buying a dildo for your strap-on harness. One: it has to be strap-on compatible in that it must have a flared or flat base (or it's just going to slip out of your harness). Two: when it comes to size, remember it's all about the motion of the ocean. Resist the temptation to pick a Mandingo-sized dong and stick with an average-sized dildo instead. Three: it's important to pick a dildo that's made from a body-safe material like silicone, glass or aluminium. You want to avoid sex toys are made from porous materials because they can release nasty stinky chemical compounds called phthalates. If the toy doesn't explicitly say it's body-safe or made of medical-grade silicone – keep looking.
Find your strap-on confidence
Hang out in your harness before you hang it out in front of somebody else.
The first time I tried on a strap-on was right before I was about to try and use it on someone. I remember sliding the harness over my hips and struggling with the myriad of buckles before taking two steps and tripping over the massive purple dong that was swinging wildly between my legs.
My advice is to not do that, and instead get to know your harness before you take it out for a ride. Put it on, figure out how it fits best and masturbate with it. Become one with your strap-on!
With that being said, if you have a partner – it can be super fun to get them involved from the get go. Have your partner help you into the harness, jerk off your dildo or eat you inch by inch…
Manage your expectations
When it comes to starting to actually use your harness, don't put any pressure on yourself. Remember that sex can be awkward sometimes and that's okay. Learning to fuck like a champion with the aid of a disembodied dildo attached your pelvis is a process…
Start slow and subtle until you get the hang of it, make sure to keep communicating with your lovers during sex, and above all… use tonnes of lube. Happy strap-on sex!
Copyright © 2023 Amie Wee It is illegal to use any or all of this article without the expressed, written permission from Adult Match Maker and the author. If you wish to use it you must publish the article in its entirety and include the original author, plus links, so that it is clear where the content originated. Failure to do so will result in legal action being taken.
The content posted on this blog is intended for informational purposes only and the opinions or views within each article are not intended to replace professional advice. If you require professional relationship or sexual health advice you should consult with an appropriately trained and qualified specialist.