Redefine your relationships with Relationship Anarchy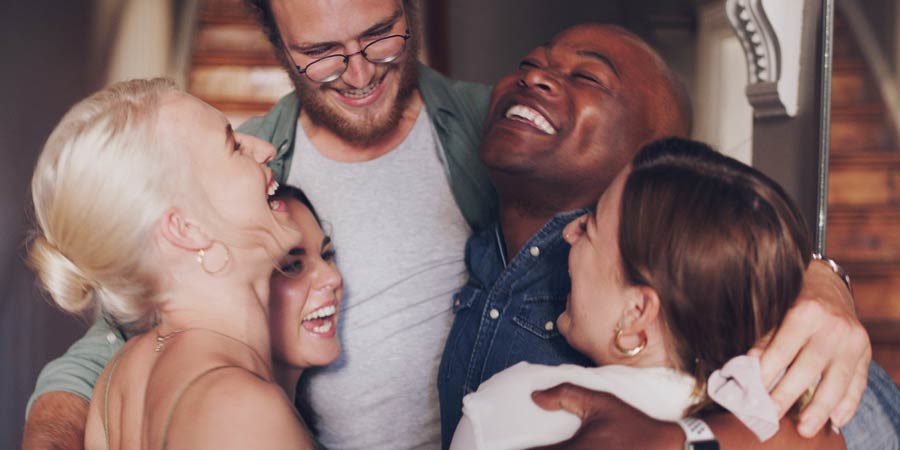 People, I don't like to think of myself as an anarchist. Anarchy brings to mind things like 'chaos' and 'disorder'. Anarchy makes me think I'll be uncertain and it brings up feelings of stress and anxiety. And when it comes to relationships, anxiety and stress are very much things I try to avoid!
But, ironically, relationship anarchy has been the opposite of all those assumptions. RA has helped me to understand all of my relationships so much better, not just the ones with potential romantic or sexual partners, but even relationships with friends and acquaintances.
To understand relationship anarchy though, we first have to understand the relationship escalator.
What is the relationship escalator?
The relationship escalator is the assumption that every romantic relationship we enter into is heading in the same direction. That we all have the same goals and we all want the same outcomes. It's like how every rom-com movie you watch kinda feels the same, even when they try and mix it up occasionally by having the main characters be gay or mixed race or disabled.
Basically we step onto the relationship escalator on our first date, and the escalator automatically starts climbing us towards our destination of marriage, a house and 2.5 children, via the first 'I love you', moving in together and getting your first pet.
Another word you might see used to describe it is the 'social script' because sometimes it feels like we're expected to follow a script that was written for us before we ever arrived on set.
The problem with the relationship escalator is that it becomes automatic. It becomes something we do without thinking about it. How often do you see that trope in TV shows where someone asks their friend, "How soon is TOO soon to say 'I love you?'" or, "When should they meet my parents?" But they're not actually asking the important question. Do I love this person? Do I think this person would appreciate knowing that I love them? Would I like this person to meet my parents? Do I think this person would enjoy meeting my parents? We stop thinking about what we need and what our partner needs and we're only thinking about timelines and ticking boxes.
So, what happens if we throw out the relationship escalator? What if we take everything off the table? And we only opt in to what we actually, truly want? No more default declarations of love, no more marriage, kids and living together. What does the world look like when we put our own needs first?
What is relationship anarchy?
Relationship anarchy (RA) is a social movement started by Andie Nordgren in 2006 with their "Relationship Anarchy Manifesto". RA is referenced a lot in ethical non-monogamy spaces, but it's designed to apply to all relationship types - there's nothing romantic or sexual about it. It's a philosophy about how we interact with other people.
One of the reasons RA is so popular with people in non-monogamy spaces, though, is because it places such an emphasis on communication. We've talked before about the role communication plays in ethical non-monogamy. Polyamory and open relationships don't really work without it.
At their heart, most people who successfully practice ethical non-monogamy are massive nerds who happen to nerd out about relationships. Relationship anarchy is the latest and greatest expansion pack - it lets you take all of your relationships to a wonderful new level of consent and communication. No longer do you have to assume that you're giving and getting the best out of every relationship you have, now you can know for sure!
RA is like the opposite of the relationship escalator. The escalator is a pre-written script where everyone follows along towards the same end goals. RA is showing up in a room with a person, finding out there is no script and starting from scratch. What do you want? What do they want? And not just the obvious stuff like marriage, kids, pets, etc. But everything in between as well - how do they like to communicate and how often? How do they feel about physical touch? How do they want to handle financial situations, everything from splitting dinner bills to investing in a business together - communicate about all of it.
At the risk of oversimplifying it a little, at its heart, RA is about intentional relationships. Not doing things by default. Not following a script. And if you're interested and want to go deeper there are also some great underlying values around dismantling systems of oppression as well. But if you've ever felt like dating was leading you somewhere you weren't sure you wanted to go, or like romance had a script that wasn't written with you in mind, then RA might be exactly what you're after.
Copyright © 2023 Miss Smut Buttons It is illegal to use any or all of this article without the expressed, written permission from Adult Match Maker and the author. If you wish to use it you must publish the article in its entirety and include the original author, plus links, so that it is clear where the content originated. Failure to do so will result in legal action being taken.
The content posted on this blog is intended for informational purposes only and the opinions or views within each article are not intended to replace professional advice. If you require professional relationship or sexual health advice you should consult with an appropriately trained and qualified specialist.