It's never too late to find love … with a woman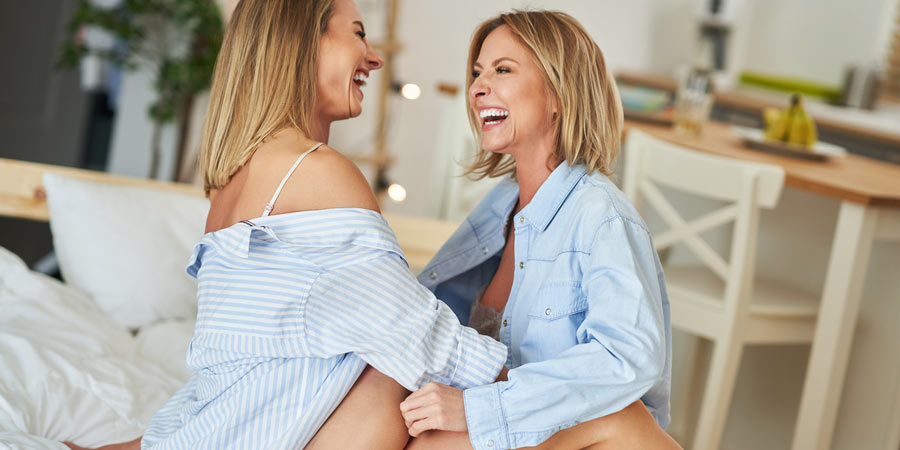 Whether you've come to the realisation that you're late-in-life lesbian, or over the years your sexuality has slid from straight to bisexual or queer, or you've identified as 'straight' your whole life up until the point you met a particular woman who the mere sight of nearly disintegrated your panties and now you can't stop thinking about where women have been all your life… Whatever your situation, coming out can happen at any time and any age.
Regardless your reasons for coming out, here's are my tips for exploring your sexuality for women in the midst of a queer awakening, and ultimately, living your best life.
Better late than never
I've known so many older women who have been married to men or in heterosexual relationships for decades and hesitate about coming out or changing their situation because they feel like "it's too late". And to that I say, it's never too late to be your authentic self.
There's more cultural acceptance and less stigma for LGBTIQ+ people than there was 20 years ago, with research from a poll from LGBTQ rights charity Stonewall, showing that people are coming out at younger ages than ever before, that's certainly not the case for everyone! In fact, for some women, it can take years of straight relationships to either realise they're lesbian, bi or queer; develop the confidence to come out; or because sexuality can be fluid – sometimes who and what you're attracted to can just evolve. There's no expiry date for coming out, and it definitely isn't just for young ones!
Which brings me to my next point…
You're not alone!
Creaking open the closet door and stepping foot into the rainbow unknown can feel extremely overwhelming at first, especially if you feel out of your depth after a long history of only dating men. But, fret not! You might be out of your comfort zone, but you aren't alone!
In fact, the majority of women on Adult Match Maker have signalled on their profiles that they're keen to meet other women, with 60% of those members only seeking women, and 34% stating that they are bisexual or bicurious. If you're a woman looking to meet other women on Adult Match Maker then your cup runneth over as you are amongst the majority!
On top of that, while we're still a way from full equality, there is much more cultural acceptance, less stigma and secrecy, more same-sex representation, and more opportunities and inclusion for LGBTIQ+ people than there was 20 years ago.
Being queer is a gift, and part of the fun of being out and proud is the joy of finding your community and learning who you are and what makes you tick.
Your family will probably ask weird questions about your sex life
Part of the rite of passage of coming out, is the awkward and weirdly inappropriate questions from family, friends and acquaintances. Most people are just genuinely curious because it's beyond their own experience, but sometimes people will probe you for the hot and heavy details. It's up to you who you share that information with, but I like to stop people in their tracks by telling them they can see the ins and outs by subscribing to my OnlyFans, and then turn on my heels and leave the room.
The reality is, if you're freshly plucked from the closet, you're probably still figuring it out yourself and you don't have all the answers anyway! I feel like I had zero answers when I came out. It was only by putting myself out there that I figured it out.
With that being said, one of the best parts of coming out and being brave enough to live your best queer life, is that you'll find that your authenticity will give your loved ones the strength and encouragement to open up to you about their past experiences, non-straight relationships or same-sex feelings they might currently still harbour. Awww.
Lez go!
Now comes the fun part. It's time to act on those queer feelings and get amongst it! By coming out of the closet, you've opened the door to a whole new universe of sexual and romantic possibility.
While life would be so much easier if when we came out, a pack of horny queer women descended on our door step waving rainbow flags and strapons, your profile on Adult Match Maker has the potential to be just as effective at getting you out there.
If you haven't already, give your profile and search filters a makeover, and let those chicks know you've arrived and what you're up for. Are you looking for casual hook ups? Polyamory? Kinky fun? A long-term lover? A group of gay women to go out on the town with? Or maybe all of the above? Why not! Whatever you're looking for, we recommend grabbing a glass of wine and getting comfortable because you're about to fall down a rabbit hole of flirtacious, exciting, complex, thrilling, skin-tingling unchartered territory.
The time is now to throw caution to the wind, find yourself a comfortable strapon and enjoy the ride. The world is your oyster and she's never been moister.
Copyright © 2023 Amie Wee It is illegal to use any or all of this article without the expressed, written permission from Adult Match Maker and the author. If you wish to use it you must publish the article in its entirety and include the original author, plus links, so that it is clear where the content originated. Failure to do so will result in legal action being taken.
The content posted on this blog is intended for informational purposes only and the opinions or views within each article are not intended to replace professional advice. If you require professional relationship or sexual health advice you should consult with an appropriately trained and qualified specialist.