Let's Bust Some Myths about Slutty Girls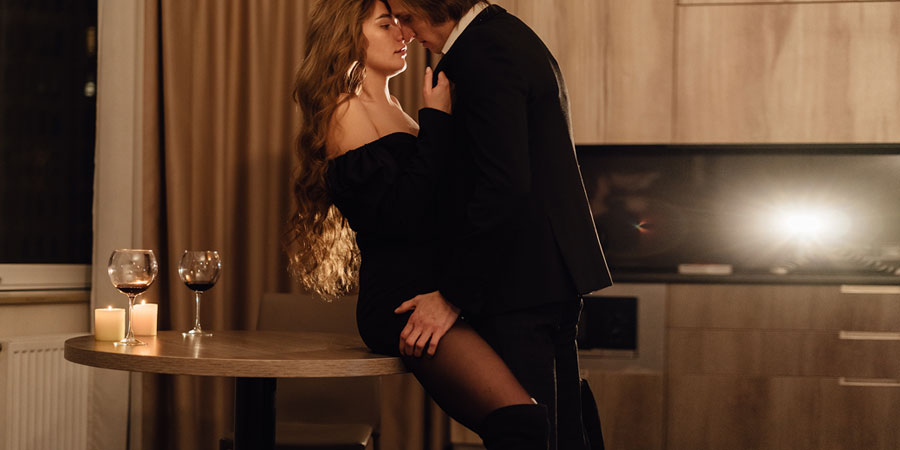 Slut. What a ridiculous word with absolutely no real meaning. It's like "virginity". What does it even mean? What's the definition and scale? Basically it's just an imaginary line drawn by old fashioned ideas of control and "what women should do" that constantly moves depending on the day, the woman, the action, and how hot or not she is deemed by society. Fuck that.
We're going to break down some of the more common myths that surround women who enjoy lots of sex, and embrace and reclaim the word "slut" as one of power, strength, and women doing what the fuck they want with their own bodies.
Totally radical, I know, but empowering and fun as fuck, as well as getting the pearl-clutchers right where they clutch hardest.
Sluts have no self respect!
Or maybe they actually respect their bodies and sexuality so much they don't have to be held to bullshit patriarchal standards of "good women" to feel worthy in the eyes of men who literally don't give a fuck about them!
See, the thing is, women who know their own pleasure and their own desires are strong and frightening to men who want to control them, and discomforting to women who like to keep the status quo, and so they are put down and degraded and held up as examples of what not to be. But in fact there is nothing more self respecting than knowing yourself, knowing what you want, need, and desire, and then going out and getting it done.
Power to you, girl! Go get that O!
Sluts are dirty with STIs
Firstly STIs don't make you "dirty". They're an unfortunate, yet incredibly common risk and side effect of having sex, and you can get them in many ways, from many sources, and can get them if you've had sex only once, or a thousand times.
Secondly, sexually active people who have a lot of sex with different people, are VERY aware of the risk factors involved in having sex and take the necessary precautions and steps towards preventing them. Statistically sex workers and porn stars (the biggest "sluts" on the planet) have the lowest rates of STIs among any other social demographics, as do swingers and other "promiscuous" lifestyles. So actually no.
Your Grandpa in the nursing home is actually far more statistically likely to get an STI than Kandy down at the stripclub... So let's change our thinking on that.
Sluts must have daddy issues or they've been sexually abused
Oh yawn. What a tired trope this is. I mean firstly the number of shitty and absent dads there are in this world, on top of the number of women who are victims of some form of sexual assault means that, statistically, yes there are a lot of them around. But that can literally be said of any women in any field in basically any country in the world.
Studies have been done that prove the number of women who have suffered from assault (approximately 1 in 3) doesn't change whether you are surveying female sex workers, teachers, nurses, or mechanics.
That's where our focus and shame should be. On the sheer number of men who abuse women... Not women having some fun for themselves... But we're still a while away from that.
Sluts will steal your guy!
She really won't. You know why? Because humans can't be stolen (caveats on slavery etc, but y'all know what I meant).
If your partner is cheating on you, or looking elsewhere, that is on them. Not on anyone else. Sure there are some people out there that don't care about other people's relationships but they are trash not sluts. Sluts like to play and have fun, but for the most part, they're not out to steal your guy or ruin your marriage. Most sluts have many options, your shitty husband usually isn't one of them.
Sluts are just dumb bimbos!
You know what, some might be! Some might have a PhD. Some might be your mum! Intellect and education has no bearing on what you do in your pants, and making assumptions on someone's intelligence because of what they do in their pants makes you look like the ignorant loser, not them. In fact, it makes your insecurity look huge in those jeans!
Basically, what I'm trying to say is who cares! We're over twenty years into the new century. We are Beyond 2000. We are literally living in the future... The world is dying, wars are ravaging, children are starving, pandemics are rising... And you're pissed off because Jen fucked two different guys this week?
Let's get our priorities straight, and start caring about the things that really matter.
Jen and her bits will be fine.
Go and plant a tree.
Copyright © 2023 Eva Sless It is illegal to use any or all of this article without the expressed, written permission from Adult Match Maker and the author. If you wish to use it you must publish the article in its entirety and include the original author, plus links, so that it is clear where the content originated. Failure to do so will result in legal action being taken.
The content posted on this blog is intended for informational purposes only and the opinions or views within each article are not intended to replace professional advice. If you require professional relationship or sexual health advice you should consult with an appropriately trained and qualified specialist.