How to Make a Woman Squirt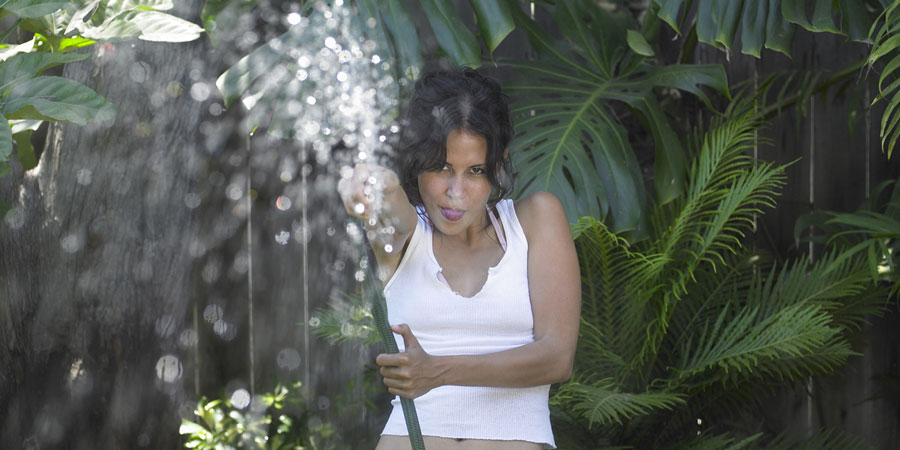 Okay, so before we begin I am going to nip the comment section in the bud.
Yes. We know some of you think female ejaculate is purely urine.
Yes. We know you've read so and so study that claims one thing or another. We've read it too.
Yes, we also read the other study that said the opposite!
We also know a study is not truly a scientific study when it uses less than a thousand participants...
And we also know, from experience, knowledge, having the bits, feeling, touching, and tasting the stuff that comes from the bits, that female ejaculate is a lot more than just urine, and squirting is a very different experience and sensation than urination.
So yes.
We get it.
Thank you for your input...
Now let's begin.
What Is Female Ejaculation?
Basically, female ejaculation, or squirting as it is most commonly referred to, is exactly what it sounds like. A rush or squirt of liquid from the vaginal area that is usually accompanied by, or brought on by, an orgasm.
It is thought to originate in an area of the body called the Skene's glands, which are situated near the urethra and bladder, and it is most commonly thought that these glands swell and fill up with certain fluids when aroused; a sort of blend of things that includes very similar ingredients to male ejaculate (no sperm obviously) including prostate-like enzymes, as well as other components like urea and creatinine (found in urine, yes, but not its sole ingredients).
The fluid itself is usually a sort of clear yet milky liquid (it will vary in person to person, and from squirt to squirt), with slight viscosity, and an often sweet smell and taste.
So How Does Squirting Happen?
While a lot of the actual mechanics of squirting are a bit of a mystery, that's mostly because science has long been pretty uninterested in the sexual pleasure of women, but that is changing and we are starting to learn a lot more about it. From the few small studies that have been done, and the tireless amateur studies millions of people around the world have engaged in, it would seem that when aroused, the Skene's glands fill with this ejaculate liquid, and as the pressure of manipulation and orgasm build up, the liquid is released in a fast and furious gush. Often creating rather a lot of mess, and sometimes surprise and shock if never experienced before.
Breaking the Damn Wall
Something that is really important to note is that for some people squirting just isn't going to happen, and for others it can happen too fast or too often for them to enjoy. Like all sex and sexual play, it is individual, subjective, and absolutely different for each person, and again, each experience, so please don't get too caught up in the idea of this (or anything really) being the be all and end all of pleasure.
Yes, it's fun to give it a go and see what your body can do and feel, but don't let the end result get in the way of the journey you take to get there. You never know what cool stuff you might miss if you're too focused on the end.
With that being said here are some of the best tips and tricks we've come across (pun possibly intended) that can help get those juices flowing and those geysers exploding.
Get To Know Your G-Spot
Seriously. If you've not really explored the inside bits of your vagina it's time to change that. Don't feel like you're alone, though. It's not that uncommon at all as so many women find penetration secondary to clitoral stimulation, and so don't masturbate internally, but now it's time to give it a go and find your G-spot.
You can do it alone or with a partner's help, but I always think with almost all sex stuff it's often best to work it out on your own first, as then you can better guide someone else to help you out.... But regardless of how or who, the key is to explore and find that spot inside...
It's usually about two to three inches inside the front wall (sort of around the belly button area but can be higher or lower) and the skin feels slightly rougher or firmer than the rest of the vaginal wall, but it can be really subtle so it's important to also concentrate on how it feels sensation wise too.
Curl your fingers in a come-hither motion and push them in and out towards the front/belly button area.
It can feel a little interesting and weird, maybe like you need to pee or maybe like your clitoris is being touched from behind (newsflash it actually is!) and can be a little awkward and tiring to maintain the position and pressure... But there's help!
G-spot Specific Toys
You've seen them. Sex toys that are shaped a bit like a hook, with a large curled in knob at the top and a handle to hold onto. These are toys designed especially for your G-spot, and are your BFF in the learning to squirt game. The best ones are solid and heavy (like the amazing njoy wand) and give you a good angle, grip, and pressure, without having to contort your body too much.
Change Your Position
While many women say they find it easiest to squirt when they are lying on their backs, that isn't necessarily the same for all of us. If you're finding it isn't really doing it for you, see if changing your position makes any difference. Just raising your hips with pillows can be helpful, and one friend of mine swears it's the best when she is sitting up in a high backed chair. Doggy style is also an option but isn't as easy to manipulate solo, but really whatever works for you is the best way to do it.
Under Pressure
While the clitoris really loves vibration and usually softer manipulation, the G-spot is a different beast and gentle softness just won't cut it. Pressure, and super hard and fast movement are the key to getting this little spot moving and it can be quite tiring and exhausting working it all out. It is worth it though!
It Feels Like Pee but IT ISN'T PEE!
This is the bit that can get confusing, and can convince many people that squirting is just an unfortunate bed wetting accident that we've just renamed as something else to feel better about. It isn't... But the build up, the pressure, the way it all feels, really can feel like you're about to urinate, and that's what stops many people from following through.
It isn't pee. It really, really isn't. But it IS building pressure and liquid in those glands right near the urethra and bladder. And so that sensation can be quite familiar, and quite distracting.
This is another reason I suggest trying it out alone before adding another person into the mix, because you're going to be far more relaxed and less worried about the whole pee thing if you're on your own.
Just Relax and Let Go
I'm sorry in advance, but you're probably going to find this another really confusing bit of advice because, when it comes to it, the very last thing you think you can do in that moment is relax.
Your body feels tense. Your vaginal and stomach muscles are tense. Your brain feels tense.
But as that tension and sensation builds and builds, this is when it's time to start letting go.
Also, contradictory to almost everything I've said before, this is actually where a partner can really come into play. Keeping that pressure and rhythm going while you start to relax and feel that sensation build. It can also be really helpful to have them put a small bit of pressure on the outside (on your belly) to help create that perfect release from the area.
Always Know Where Your Towel Is
Quite similarly to men, the actual volume of ejaculate is only around a teaspoon of liquid, but all the other stuff that gets mixed in (yes, sigh, even a little bit of urine) makes it quite the flood, and can absolutely soak through a doona and sheet through to a mattress, so please be aware of that. This is where a moisture proof blanket or throw you can put down can be very handy.
It can also come out with quite a lot of force, so if someone is down there helping the situation out, they may cop a faceful, and it's probably polite to give them a warning.
Be sure to drink plenty of water too, as it can be very dehydrating losing that much liquid in one go.
All in all squirting is a fun, sexy, exciting thing to try, and even of you can't quite get it, like I said before, the experience and experimentation of working it all out can be just as fun as the act itself.
Good luck, and happy squirting my friends!
Copyright © 2023 Eva Sless It is illegal to use any or all of this article without the expressed, written permission from Adult Match Maker and the author. If you wish to use it you must publish the article in its entirety and include the original author, plus links, so that it is clear where the content originated. Failure to do so will result in legal action being taken.
The content posted on this blog is intended for informational purposes only and the opinions or views within each article are not intended to replace professional advice. If you require professional relationship or sexual health advice you should consult with an appropriately trained and qualified specialist.