Crucial Online Dating Tips for Newbies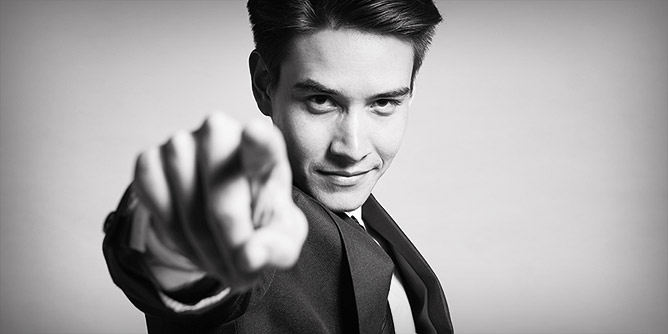 If you have just joined an adult dating website, it can seem really daunting. Sometimes the apprehension can be like the nerves you experience on the first day in a new job.
And that's understandable – everyone is anxious about new things. The problem is, this can lead to big mistakes that will bugger up your dating success rate in a massive way.
And in the world of online dating – getting it right the first time can be the difference between meeting someone for a fun night and suffering another "KK" (Kleenex and KY) evening, all alone with nothing but a DVD from the local adult shop for company.
Sure, women do a lot of things wrong as members of dating sites. Most blunders, though, are definitely made by the male – dare I say it – members.
Here are a half-dozen tips that will help you avoid making the common mistakes, and ensure you do better than the complacent guys out there. These are the arrogant types who slap together a crappy profile, post some even crappier photos, and then wait in vain for their Online Dating Princess to just turn up at the front door wearing a revealing dress, carrying a bottle of wine and desperately asking directions to the bedroom.
Give it all you've got!
Imagine you are applying for your dream job. There are thousands of other applicants all dying to score this job. In the same way, don't be half-arsed about your membership of a dating site, because there is also competition here. There are more guys than women on some sites, so don't be slack. When you do have the right attitude and put in the hard yards, though, you should be rewarded with lots of dates.
Go for the pay sites
Times are tough economically, and everybody wants a free lunch. But there is no such thing – and even more so in online dating. To stand the best chance of meeting people who are serious, you simply must join a professionally run and maintained online dating service, such as Adult Match Maker. Because the people who run these sites want them to succeed, they offer services of a much higher standard. And here's the clincher for blokes – the quality of women who join is higher than on complete free-loader sites. If you are doubtful, join a free and a pay dating site, and then compare the difference.
Look far and wide
Some people think they should just look for dates in their local areas. Huge mistake. By broadening your horizons to encompass a bigger geographical area, you will be astounded at the potential compatibles you will find. This is especially true of guys and girls who may have a special requirement or desire – sexual or otherwise – that they seek in a partner. You might be in Cairns, but the girl who will do that special something that drives you wild might live in Brisbane. Being prepared to travel can increase your dating success rate exponentially.
Make the best effort in creating your profile
Newbies are so thrilled and excited by the sheer fact of signing up to a dating site that they forget to put up a decent profile. Others just couldn't be bothered. Don't be one of these! Always get a close friend to check – they will spot the most glaring stuff-ups. Try and stay as truthful as you can, but a little jazzing up is okay. If you are a boring, cardigan-wearing nerd from accounts, for example, you might like to emphasize some of the more exciting parts of your life. Like your Star Wars light sabre collection. Not really, but you need something attention grabbing, or the clicks you get will be few. And get the photos right! Between two and six is usually a good number, and try and include at least one of you with other people – this shows you are probably not a crazy loner. Once again, your mates will tell you which photos of you are the most flattering.
Don't set your hopes on a super model
Many dating experts do a great job of pushing men to increase their confidence levels so they can feel comfortable asking out the really beautiful women. But, let's face facts, this isn't always going to happen. Some guys are born shy and will stay shy their whole lives. And if you combine that with average looks, the reality is, they are never going to be dating Miss Universe. But here's the upside – for the average Joes out there like you and me, online dating sites are not lacking average Janes who are delighted to go out with normal guys who are shy and average looking. Take a reality check, give the average people a chance, and see your dating stats skyrocket!
Hang in there!
I've seen many posts on Internet forums from guys bitching and moaning about XYZ dating site. These are the men I mentioned before who expect everything to come to them. Like many things in life, dating online is a numbers game. Statistically, you might make more approaches than you get responses, but as a member of a large online dating site, the results will come. And so will you! Have patience and keep applying yourself.
Once you see the number and quality (in terms of compatibility) of your dates go up, you will be glad that you bit the bullet and joined that dating site.
Copyright © 2023 Cam Langdon It is illegal to use any or all of this article without the expressed, written permission from Adult Match Maker and the author. If you wish to use it you must publish the article in its entirety and include the original author, plus links, so that it is clear where the content originated. Failure to do so will result in legal action being taken.
The content posted on this blog is intended for informational purposes only and the opinions or views within each article are not intended to replace professional advice. If you require professional relationship or sexual health advice you should consult with an appropriately trained and qualified specialist.