Our DIY Strap On Harness Guide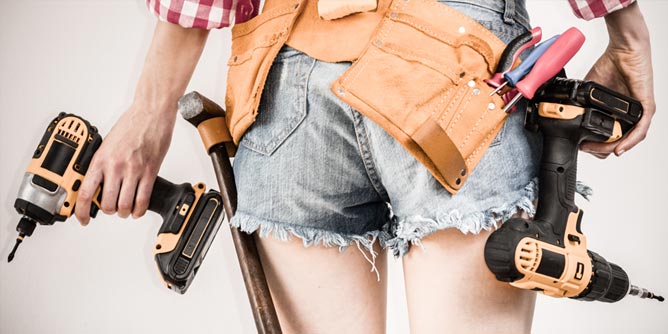 Today we're going to do a little weekend DIY that will have you strapped in and ready to go by the end of the day. That's right, gang, today we are going to make our own strap on kits for all your pegging and girl on girl fun, so grab your construction paper and glitter and let's get started!
Okay, so you probably won't need the paper and glitter (although glitter is always fun) but we are going to give you some tips and tricks as to how to make the perfect pegging package for you and your partner that will be customised exactly to your needs and desires.
The thing is, not all harnesses and pegging kits are made equal and while you may find the perfect sized toy in one, the harness might not quite be to your liking, or vice versa, and then there's the question of changing attachments and using other accessories that might not be available in just one pack.
And with 20% of straight men & women sharing in our Under the Covers Survey that they're curious about strap on sex we know this is a DIY project you're going to love.
So let's have a look at all the elements and equipment you need and get the Adult Match Maker DIY show underway.
Harnesses
This, along with the dildo, is your number one item for pegging. There are a few different styles you can get but the most popular style has adjustable straps that wrap around your waist and upper thighs and have an O-Ring attachment at the front. The best way to work out the ideal harness for you is to go into a shop and try one on. The sales staff will help you. We suggest looking for one that has thicker straps as they are far more comfortable for long time use, interchangeable O-Ring sizes, and possibly one that has a little pocket on the inside for you to slip a little vibrator into to pleasure yourself while wearing it. If it sounds a bit more appealing you can find harnesses that are basically underwear with an attachment on the front. These can be really comfortable to wear, but can also get a bit loose and slip and fall down because they may not be adjustable or able to be tightened so a heavier attachment will drag them down a bit. And then you can get some that are a sort of mixed harness/underwear deal that are often very beautifully decorated and in a sort of "corset" style.
There is also a range of strap on toys called Vacu-Lock. These are a specific brand that is only compatible with itself, but that has an impressive range of toys and attachments that lock together making sturdy and long lasting strap ons for anyone to wear. While they are very well made and of premium quality, they're not cheap, and they're not interchangeable with any other product, but they can be popular so we thought it important to mention.
There are harnesses and brands that cater for all sizes too, so don't worry if you're on the larger side!
Dildo/Pegger
This is the most important thing. You want it to be of good quality material and of a good size so as not to be too intimidating at first, but that will also give pleasure and fun to the person you are pegging. Remember, not all dildos are the same and for something like pegging, especially for first time players, you don't want to get the wrong thing and turn them off before you've even started.
While we all know pegging doesn't make you gay, a lot of guys still feel a bit unsure about the whole thing so it's a super good idea to get a dildo that doesn't look too much like a penis. Yes, they're all phallic in their way, but a nice, smooth blue or purple attachment, as opposed to a veiny, skin coloured cock replica will absolutely make all the difference to their comfort levels. Make sure it's made of good quality silicone and has a nice flat base (a lot of suction based toys also work) to sit in the O-Ring without falling out, and that it is nice and smooth with a slight curve to reach their prostate.
To Buzz Or Not To Buzz
This is absolutely individual but in my professional opinion, if people are umming and ahhing about it I usually always say get one that buzzes. Why is that? Well because even though not everyone likes vibrations, a lot of people do and while you can always turn off a toy from vibrating if you decide you don't want it to, you can never turn on one that doesn't have those elements. Sure you could buy one or two of each, but good quality toys aren't always cheap, and not everyone can afford to buy two versions of everything they use. I would suggest, however, that for first time users, keep the buzzes off or very low to start, and try and find one that either has a remote or easy to use buttons so you're not spending too much time fiddling around with it while trying to play.
Check out the Likelife Lover range
Insertable and Strapless
These are often not the best for beginner peggers to use for a few reasons, but they still warrant a mention because they're pretty damn good for the wearer. The thing is, when pegging someone, for the most part the pegger has no real sensation. Unless, like mentioned in the harness section they slip a little bullet inside, most of the sensation is for the person being pegged (which is totally fine) but sometimes the wearer wants a little bit more for themselves. Some harnesses out there have a built in insertable toy for the wearer so that they can also feel every thrust and push, and then you have the strapless versions that, while usually marketed towards lesbian couples, can also be great for pegging. A strapless strap on is an insertable toy that sits inside the vagina and has a long attachment out of it like a penis. Basically the pelvic floor and vaginal muscles hold it in place while the user uses it to fuck. The main issues with them can be a too-shallow insert so it's not easy to hold onto without super straining the vaginal muscles, and the fact that they are usually a lot thicker than pegging toys, because they are marketed for vaginas not butts… But in saying that, for seasoned anal players they really can be the best way to play, allowing for both parties to not only feel and enjoy it, but good skin to skin contact with no bulky harnesses in the way.
It's really not that hard to get your perfect strap on sorted. A visit to your local adult shop, a chat to the staff and a bit of fitting and looking at the best toys for you. Remember to always use water-based lube and a proper toy cleaner, and always practice consent and safe sex.
Copyright © 2023 Eva Sless It is illegal to use any or all of this article without the expressed, written permission from Adult Match Maker and the author. If you wish to use it you must publish the article in its entirety and include the original author, plus links, so that it is clear where the content originated. Failure to do so will result in legal action being taken.
The content posted on this blog is intended for informational purposes only and the opinions or views within each article are not intended to replace professional advice. If you require professional relationship or sexual health advice you should consult with an appropriately trained and qualified specialist.