How to talk a woman into bed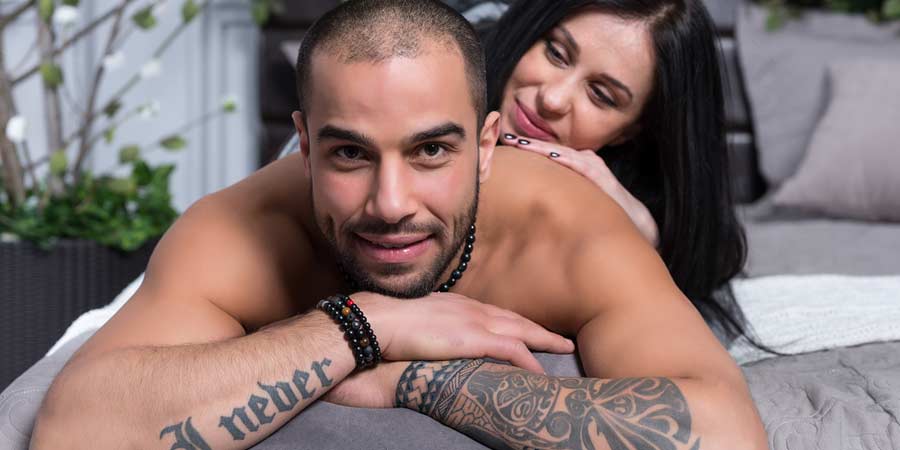 "And all I need now is intellectual intercourse, A soul to dig the hole much deeper." - Alanis Morissette, All I Really Want
When the "queen of alt-rock angst", Alanis Morissette, sang about her deep hunger for "intellectual intercourse" in her 1995 hit album, Jagged Little Pill, she was well ahead of her time - her gritty lyrics can well be applied to modern online dating in 2019.
For many of my single women friends lament about how soulless online adult dating has become - all unsolicited dick pics and very little effort from men to really get to know their prospective partners.
"It's like men don't even have to try anymore," recently complained one such sexy, smart and sassy singleton over drinks. "I just want one who can spark with me in and out of bed. Have men forgotten how to really speak to women?"
Now, before I get accused of man-bashing here, the vast majority of my friends are female, so for all I know men are experiencing these same frustrations.
What women really want, I think - is ultimately that heady mix of a mind/body fuck. And what I mean by this, is a man who can excite them mentally as well as physically. Most women need this mind connection to really get off.
Who wants to spend their time getting busy on a Friday night with a crude and disrespectful guy who can't even communicate with them with flirty spunk and cleverness in short, sharp bursts online or via text?
The women I talk to share stories of guys on online dating sites who go straight from "hello" to sharing their Private Gallery of dick pics. Now, I'm going to boldly state here that NO woman has ever been truly turned on by the unsolicited sight of a stranger's hairy scrotum.
No! What we really want is the seemingly lost art of clever conversation! Banter! The basic manners/effort of wooing a partner into bed.
Women enjoy a good, no-frills sex romp as much as the next red-blooded male - but we want to feel like you've made a damn effort to get to know us a bit first, too.
After all, isn't sex all the more exciting and fulfilling when you are mentally connected to your partner?
Women aren't expecting deep, probing discussions about climate change or Brexit, but you can make the very basic effort to find out what makes her tick. What does she like in and out of bed? What is she passionate about?
In my early 30s, against my better judgement, I fell into bed (and love) with a very unsuitable suitor who was a long-time, close male friend. The relationship was doomed from the start - as was the friendship - but my god, it was thrilling for a time.
He was a scruffy bloke with a dodgy dating history - a fellow journalist who excited my mind as well as my body. We literally danced around each other for years, while we bedded other people. He never once approved of my matches and my partners hated him on sight too. And little wonder - he was always the insidious "back-up plan" waiting for me with wine, sympathy and sexy words every time one of my relationships fell apart.
He was not right for me - but from him, I'm grateful to have learned the lesson of the mind/body connection - just how much hotter sex can be when someone truly gets inside your head and shares your passions and/or sense of humour - they leave you begging for physical release.
He had me bewitched - we could talk for hours about all manner of topics and never tire of each other. He was smart, funny and knew how to use clever words to his advantage, emailing me from dawn until dusk when we were apart.
In addition, he also knew me extremely well - so well, in fact, that he'd long known I'd want a deep, long-term monogamous relationship in the end - something he couldn't give me. And of course, it was no surprise that shortly after I finally gave up Mr Back-up Plan, I met my guy - my now-husband.
So, guys (and girls) how can you make like my Mr Wrong and excite your lover's brain? How can you use language to achieve more orgasms?
Let's look at some basic dating dos and don'ts (15 of them, but I could go on). NB: These can easily apply to both sexes and any sexual preferences.
What you should do:
Be interested and interesting. Use your brain.
Find out what she's passionate about.
Ask her about herself.
Ask her about her day.
Learn what she likes reading/watching.
Find out which is her fave sex position.
Compliment her – make her feel beautiful and desirable.
Be sexy and playful and warm.
Be charming, courteous and well-mannered. Good manners are HOT!
Be confident, bold and manly – while always first asking for her consent.
Ask her what she likes in a partner.
Talk honestly and openly – earn her trust.
Look for qualities you admire in her other than her bedroom skills.
Love women: Be fun, kind, flirty and enjoy their company both inside and outside of the bedroom.
Be emotionally strong, independent and self-sufficient.
What you shouldn't do:
Tell her you're uninterested in conversation.
Say you have no passions.
Talk incessantly about only yourself.
Send her unsolicited dick pics.
Tell her what to read/watch.
Ask how many sex partners she's had.
Make negative comments to her about body or her preferences.
Be cold, aloof and emotionally distant.
Treat her like a piece of meat or be rude and arrogant.
Don't be too cautious and polite when it comes to personal contact - always get consent and check signs she's into you - but do take life by the balls and plant that passionate kiss!
Talk non-stop about your ex/s.
Be dishonest, guarded and creepy.
Be insecure and misogynistic and make no attempt to get to know her.
If you're easily intimidated by women because you've been dumped or rejected, this is the ultimate turn-off.
Treat your partner like your personal psychologist, bank or business mentor. No stage-five clingers, either!
And big bonus points for being genuinely funny and light-hearted and not taking yourself too seriously - because dating is pretty ridiculous and awkward at first, right?
Remember: Respectful language and behaviour is key. No one thinks "He's rude/crude and can't communicate - that's hot!", do they?
So, guys (and girls), make a damn effort when it comes to how you communicate with and relate to your prospective partners. Don't you ultimately want to enjoy more hot sex? Go get em, tiger.
What do you think? Tell us how you use word play to entice partners into bed.
Copyright © 2023 Nicole Carrington-Sima It is illegal to use any or all of this article without the expressed, written permission from Adult Match Maker and the author. If you wish to use it you must publish the article in its entirety and include the original author, plus links, so that it is clear where the content originated. Failure to do so will result in legal action being taken.
The content posted on this blog is intended for informational purposes only and the opinions or views within each article are not intended to replace professional advice. If you require professional relationship or sexual health advice you should consult with an appropriately trained and qualified specialist.