Being sex positive doesn't mean I'll hook up with you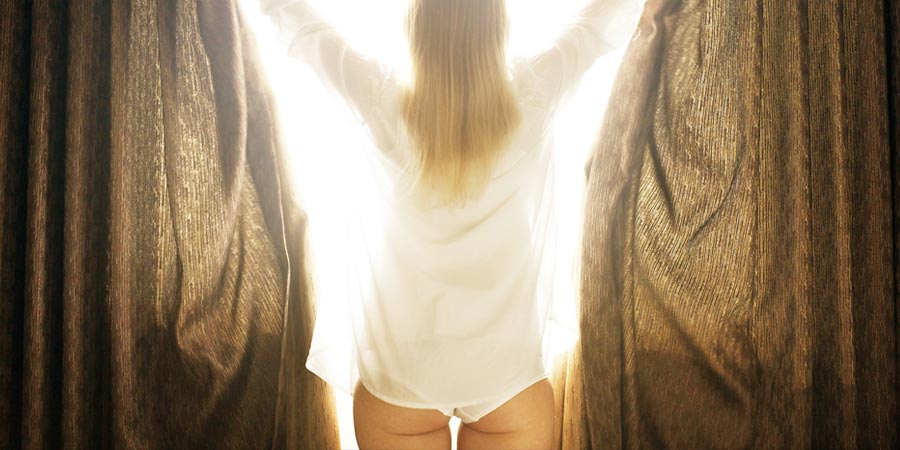 I'm assertive, sexy, sex positive and open-minded … but when it comes to hooking up, don't assume I'm 'down to fuck'.
Don't get me wrong - I love sex. I've experimented with all sorts of adventurous activities - kink, swinging, open relationships, to name a few. I'm a huge fan of Dan Savage and his 'good, giving and game' philosophy - I'm good at sex, I love pleasing my partners, and I'm open to trying new things. Basically, I consider myself a 'sex positive' gal.
In recent years, sex positivity has become the gold standard for dating and hooking up. Sex-positivity is an approach to sex that champions personal choice and avoids moral judgment. To me, being sex-positive means believing that sex can be fun and pleasurable, rejecting the idea that it's shameful or harmful, and supporting everyone's right to have the kind of sex they want.
It's important to know that sex positivity isn't the same thing as having a lot of sex. It's more about your attitude - not being ashamed of yourself and not judging others. You can be monogamous - or celibate - and still be sex positive. You can be asexual, and not want sex at all, but still respect what other people choose to get up to in the bedroom.
Similarly, just because I'm sex positive doesn't mean I'll fuck anyone. Sometimes it means I decide not to. And if you don't understand this, you're going to miss out.
I suspect that many of the people I meet online think 'sex-positive' is just another term for 'promiscuous'. They either classify women as 'good girls', who follow strict social rules such as abstinence or monogamy, or 'sluts', who have sex even if it's socially unacceptable. Because I'm willing to discuss my sexual desires without shame, they assume I'll fuck anyone and that they don't need to make an effort.
Over time I've had two profiles on Adult Match Maker - one for hook ups and one for long-term relationships - and I found I was treated very differently on each. When using my 'relationships' profile, people would chat with me, tell me about themselves, and show an interest in my life, work, and hobbies. But when I was logged into my 'hook ups' account, the folks I match with (who are often, but not always, guys) tend to cut to the chase. 'Can I come over?' 'Are you DTF?' They're shocked when I say 'no', as if they're expecting me to drop my drawers at the very first contact.
Sure, I'm sex-positive. But there are plenty of reasons I still might choose not to have sex with you. Here are a few:
I need to feel safe before we have sex
This means I need to get to know you enough to trust that you'll respect my boundaries. When guys say 'just come over to mine' my immediate answer is 'hell, no!' Safety is a big deal - I'm going to want to talk to you online for a while and meet in a safe public place before we decide to be alone together. This especially applies if we're getting up to anything kinky - BDSM activities such as bondage can be dangerous in the wrong hands, and I'm very careful who I trust when it comes to these kinds of advanced sex moves.
I want to make sure we're compatible in the bedroom
Do we want the same type of relationship? Are we into the same kinks? I need to know what you do and don't like and have an idea of your rules and boundaries. I need to know what type of encounter we're planning on having - is it a one-off, a 'friend with benefits' situation, or are we looking for something long term? To get all this stuff straight, we need to engage in quite a bit of conversation. You can't skip this stuff, if you want to ensure good sex (and avoid drama).
I want to make sure we share some sexual chemistry
There's a widespread assumption that casual sex is trivial, and your choice of partner doesn't matter. But in my experience the opposite is true - the quality of the sex we have together is determined by how well we connect. I want all my sexual encounters to be high-quality, even if they're just one night stands. That means getting to know you a little before meeting up, to make sure we click.
It's a cruel irony that when I openly admit I want sex, I tend to get laid less. Often, the people I meet online start behaving badly and treating me with disrespect. They might refuse to have a friendly conversation, skip straight to the dirty talk often in their initial message, or try to pressure me into extreme sexual acts before we've even met in person.
When I start to feel uncomfortable or unsafe, I'm turned off and I shut the conversation down. I'm left feeling frustrated - I'm offering them exactly what they want, so why can't they be bothered to treat me like a human being? I suspect the blokes I've ditched feel hurt and confused too. I can imagine them thinking, "You said you wanted sex, why won't you just give it to me?" They think that just because I've replied to their message, they're going to get laid...and they don't understand they need to do better than, 'WYD?'
Assuming someone will fuck you just because they're sex-positive is a form of self-sabotage - don't do it! It reminds me of those cringey movie awards moments when actors think they've won the Oscar, and get up out of their seats before they realise someone else's name has been called. Expecting sex without connection or conversation shows poor judgement, and might make your potential match feel like they're being used.
Instead, slow down. Take some time to work out whether you get along with them. Make it clear you don't expect anything, but that you're open to discussing the possibilities. This approach means less pressure and more connection - and there's a greater chance they'll want to meet you in person.
Stop assuming that 'casual sex' means 'no effort required' and that 'sex positive' means 'promiscuous'. Don't act like you've won the Oscar until you've actually got a green light. By making an effort - and not expecting sex from everyone you chat up, no matter how sex positive they are - you're much more likely to get laid.
Copyright © 2023 Georgie Wolf It is illegal to use any or all of this article without the expressed, written permission from Adult Match Maker and the author. If you wish to use it you must publish the article in its entirety and include the original author, plus links, so that it is clear where the content originated. Failure to do so will result in legal action being taken.
The content posted on this blog is intended for informational purposes only and the opinions or views within each article are not intended to replace professional advice. If you require professional relationship or sexual health advice you should consult with an appropriately trained and qualified specialist.