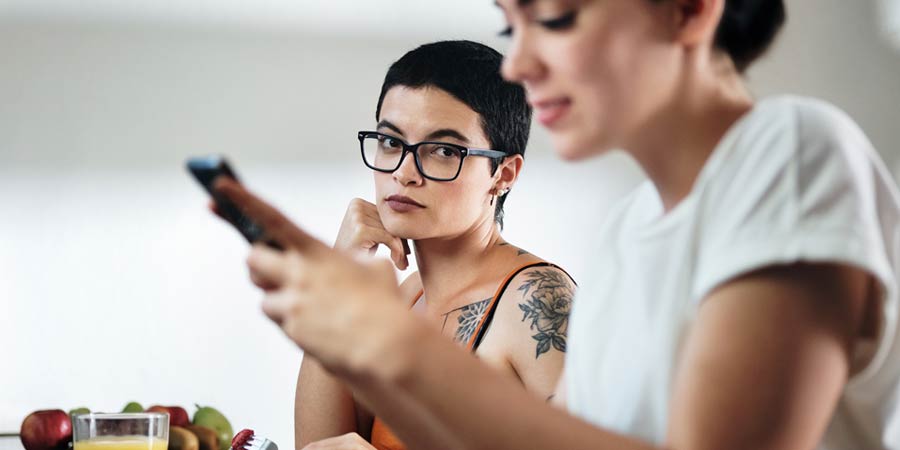 People… I don't believe in jealousy. I know. It's a bold claim. But hear me out. Jealousy is the label we give to the shit feeling we get when someone we care about is doing stuff without us. Or paying attention to someone who isn't us. It's a fucking horrible feeling. And it's normally one of the first questions I get asked whenever the topic of ethical non-monogamy comes up. "How do I deal with jealousy?"
What if I told you that jealousy isn't actually the problem? What if we've just been told for so long that this is the correct label for the thing that we're feeling. And more than that, in a monogamous relationship we're taught that it's a 'normal' feeling. It would stop us from examining what 'jealousy' actually is, from understanding what we're really feeling.
What is jealousy?
You'll often hear the word jealous used the same way as envy. But the crucial difference is that envy applies to wanting what someone else has. Whereas jealousy is about being afraid of losing what you currently have.
Envy is when we lack something we desire that someone else has.
Example: Wednesday was envious of Pugsley because he got a new guillotine for his birthday.
Jealousy is when something we have is threatened by another person.
Example: Archie is jealous of Betty's close relationship with Veronica.
Of course, it's possible to have both feelings at once. For instance, your neighbour buys a fancy new horse. You envy your neighbour because you also want a fancy horse. But you're also jealous, because your partner was saying only the other day that they're super attracted to people with fancy new horses.
So having said all of this, why am I still saying that jealousy doesn't exist? If you've ever felt jealous before, you probably experienced emotions like anger or helplessness, maybe you felt overwhelming resentment or you might have just felt really shit about yourself. Jealousy is the label we use when something we have is threatened by someone else. But at its core jealousy is about our feelings of insecurity and our lack of safety.
What your jealousy actually is
When you feel jealous, rather than labelling it 'jealousy' and then trying to problem solve that feeling, go deeper. Try to understand what you're actually feeling.
If jealousy is the fear of something you have being taken away, what is it that you're scared about losing? Is it time with a partner? Is it your relationship? Don't just assume that it's the obvious answer. Actually examine your feelings.
Once you know what you're afraid of losing, ask yourself why you're scared of losing it. Not what the consequences would be, but why you think it could happen. For instance, is it because your neighbour has a fancy new horse? Is there something that someone else has that you don't?
When you start to understand why you think you might lose the thing you value, you can start to see that it was never actually 'jealousy' but something deeper. It's usually our own feelings about ourselves that are the problem. We feel like we're not good enough for someone to come back to. We feel inadequate in some way. Unworthy of the person we care about. Sometimes we might project these feelings onto someone else, telling ourselves we don't trust the person our partner is dating because they're going to 'steal' them from us.
What to do about it
I blame the culture of monogamy for this. It's very hard to break out of the idea that someone has to 'pick' between two partners. Especially when we're fed a steady diet of love triangles that aren't even triangles, they're just some poor woman having to choose between two equally generic straight white men before the end of the movie.
So when you first start practising ethical non-monogamy, it's understandable that every time a partner is with someone else it can feel like a trial. Like they're just road testing new partners until they find one that's better than you.
Here's the thing though - if someone is ever truly looking to leave, holding them tighter and torturing yourself each time you're apart, isn't going to change that outcome. The only thing that's going to fix that is open and honest communication about what both of you want and need from a relationship.
Examining the feelings behind your experiences of 'jealousy' will help you understand what's actually happening in your head and your heart. When we understand what's actually going on when we feel 'jealous' it's much easier to manage our experience. Instead of focusing on the hurt that our partner is causing, we can turn our attention to the narrative in our head and try to unpick why we feel unsafe. Where are the feelings of inadequacy or fear coming from? And how can we resolve them?
Don't be afraid to talk to a therapist or counsellor who is familiar with ethical non-monogamy. If you have supportive friends, talk to them about where your head is at and what you're working through. Or if you prefer to work through things alone, try using a journal. Just start writing down what you're thinking as you go.
The most important thing to remember is, you will survive this. And you'll be stronger for it.
Copyright © 2023 Miss Smut Buttons It is illegal to use any or all of this article without the expressed, written permission from Adult Match Maker and the author. If you wish to use it you must publish the article in its entirety and include the original author, plus links, so that it is clear where the content originated. Failure to do so will result in legal action being taken.
The content posted on this blog is intended for informational purposes only and the opinions or views within each article are not intended to replace professional advice. If you require professional relationship or sexual health advice you should consult with an appropriately trained and qualified specialist.