Your Top 10 Questions about Dating a Cougar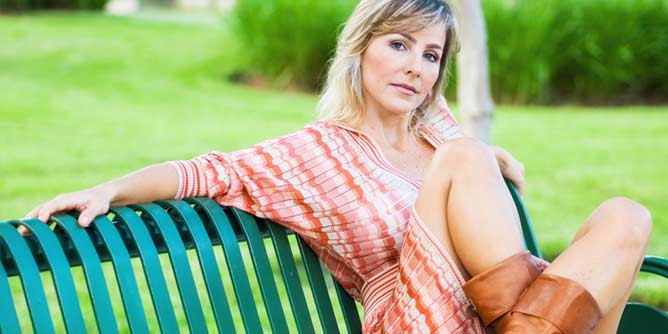 My name is KarenLee Poter and I'm a "Cougar!" Proclaiming myself a Cougar to me is like wearing a badge of honor. It signifies a woman who is Confident, Older, Unique, Genuine, Assertive & Racy. Most cougars have had their share of triumphs and tragedies.
Here's my story: I was happily married for 24 years, when my husband was murdered by a deranged employee. When I began going out with other single women, I found an unexpected phenomenon. Everywhere we went, younger guys hit on us. The perception of a cougar was one of a predator, but I found it to be the opposite. I discovered that younger men were relentless in their quest to date me and my friends. They were the aggressors. Celebrities like Demi Moore, Mariah Carey and Madonna helped de-stigmatize and glamorize the older woman/younger man age gap relationship.
After a few years of being single and dating predominantly younger men, I created a YouTube channel, The KarenLee Poter Show. The show was about dating and sex and not surprisingly, the most popular topic was Cougars!
Here are my answers to 10 popular Cougar questions:
1. Why am I attracted to Cougars?
Cougars are attractive to younger men mainly because of their self-confidence. They're independent and self-sufficient which is attractive to younger men, who don't want to take care of anyone while they're establishing their own careers. Cougars are sexy and usually skilled in the bedroom which makes them excellent teachers. Older women are typically more mature and don't engage in drama and game playing like their younger counterparts.
2. Where can I meet a Cougar?
There isn't a set location where Cougars congregate, but there are some venues that you'll have more luck finding them in. Most Cougars take good care of their appearance so they have gym or yoga studio memberships. They like going to restaurant bars or places with live music. Cougars won't be in frat bars or loud EDM clubs. Some are avid sports fans, so sports bars are popular especially if the teams are doing well. Charity organizations, karaoke, wine tastings or running clubs are also where you can meet like minded cougars.
3. Do I need a lot of money to date a Cougar?
No, cougars are happy to stay home and enjoy the company of the younger man. They know they're with men starting their careers so they don't have those expectations.
4. What pick up lines work with Cougars?
Cougars aren't usually suckers for compliments or pick-up lines. They are more interested in a sense of humor and genuine interest on the part of the younger guy. Asking her questions will draw the focus to her which is great for shy guys.
5. Do Cougars only want sex or can it turn into a relationship?
Cougars like the sex but also the companionship that goes with the relationship. I'm currently in a long term relationship with a younger guy. If the chemistry is there, anything is possible although typically younger men may want to have children which could be a deal breaker for older women with kids.
6. How do I ask her out?
Cougars like a guy with confidence. Approach her, talk about the surroundings and ask questions with some depth and curiosity. Don't take it personally if she rejects you the first time around. She may be worried about the stigma still attached to dating a younger guy. It's a numbers game, be creative and interested in what she has to say. Be a good listener. Practice talking to strangers every day. You'll become comfortable if you talk to people who don't intimidate you. Eventually you simply ask her to have a cup of coffee or a drink. You'll miss every shot you don't take.
7. How do I deal with my friends and family's disapproval?
Ignore it! They'll realize that you need to follow your heart if you demand that they respect your right to choose a partner.
8. Should I ask her age?
No, it's understood that the cub is younger. Don't ask her kids' ages either. She'll let you know when it's appropriate.
9. What should I wear on a date with her?
Dress like a man. A suit isn't necessary but a nice shirt and a pair of sharp jeans is a turn-on. No slouchy pants or baseball hats on dates. Grooming is a must!
10. Do I have to have experience in bed?
No, Cougars love to be the teachers and are up for experimenting sexually. They've had multiple partners and are typically non-judgmental and patient in the bedroom. You'll learn life long lessons and it's one of the best reasons to be with a cougar.
Copyright © 2023 KarenLee Poter It is illegal to use any or all of this article without the expressed, written permission from Adult Match Maker and the author. If you wish to use it you must publish the article in its entirety and include the original author, plus links, so that it is clear where the content originated. Failure to do so will result in legal action being taken.
The content posted on this blog is intended for informational purposes only and the opinions or views within each article are not intended to replace professional advice. If you require professional relationship or sexual health advice you should consult with an appropriately trained and qualified specialist.