Transform your love life with the 'manfunnel' dating method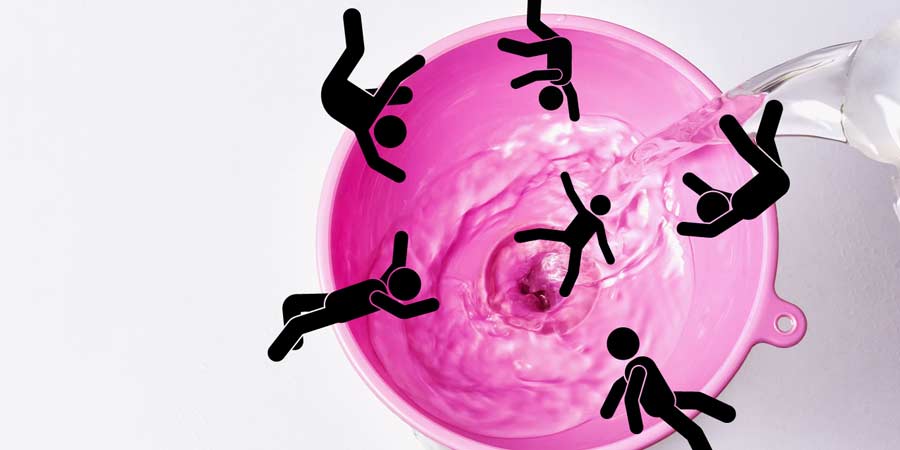 Single ladies and gents, what if I told you everything you knew about finding your perfect partner was a lie?
I hate to go all Morpheus, from The Matrix, on you, but there's a new concept for women who are adult dating called the "manfunnel", which might well change your partner-hunting approach in the digital age.
What's more, it challenges some archaic, outdated gender notions which might be holding you back from enjoying a lot more fun, good company and orgasms – and who doesn't want that?
What is a manfunnel?
No, it's not some kind of deadly spider reference, although we've all dated partners with fatal flaws. A manfunnel is basically the idea that you should date several men at once (it can also apply to partners of any sex/gender identity) and not become quickly emotionally attached to just one and cancel out the others, as many women are want to do.
Hell, I made this mistake a LOT myself when I was on the dating scene – it was all too easy to just focus on one person at a time, worthy or not, because who had the time and energy for dating several different men at once?
In addition, growing up as a Gen-X, my brothers were encouraged to "play the field". Me? Not so much. As in, not at all.
The manfunnel also turns the bullshit "good girl" sex/dating societal stereotype on its head – that women should only date one man at a time and sit around passively like fucking Cinderella, waiting for her prince to choose her.
Smart, strong and sexy singleton ladies of 2019 take action, I say.
The origins of the manfunnel
Women have Megan Weks, a NYC certified dating and relationship coach, author, and speaker to thank for the manfunnel concept. Megan says women must make the time to date several men at once to save their sanity, hearts and find a great loving partnership. Preach, sister!
When she found herself suddenly single at 35, Weks vowed to be married within a year, refusing to settle for someone unsuitable.
Weks became a self-described "dating machine", thereby creating her signature "manfunnel" method – the act of attracting several men at once in your dating "funnel," a common sales term. She says she started off by going on two to three dates per week.
"Even when I met someone I liked (and had second and third dates with people), I kept going on more dates so I could keep adding to my "manfunnel" she says.
"That way, if a guy ghosted or I decided I didn't like him after all, I still had other options.
"In other words, I didn't put all my eggs in one basket – and neither should you."
Weks strived to keep at least three men in her manfunnel at all times, so she was always actively seeking more options.
"It was a challenge, but it made the process less personal and more fun – and most importantly, it saved me a lot of heartache," she says.
The dating coach ended up seriously dating three men for three months and then slowly narrowed them down to her now-husband.
How to make the manfunnel work for you
So, what do you think? Personally, I love this sex/dating concept that frees women up to date several partners at once, ala men. Dating is hard work, as we all know – why shouldn't women be free to explore all their choices until they find a winner?
Now, no one's saying you should audition 20 or so men to win your affections, ala The Bachelorette, but keeping a cool head, not getting too emotionally invested in unworthy men and being open to all options are all great sex/relationships credos for 2019 if you ask me.
Weks also preaches the concept of "leaning back" to attract the type of partner you want. So, this means keeping a check on your emotions, ladies, in a healthy, detached kind of way and keeping busy and active working on your manfunnel – not wasting vital energy chasing after unworthy men and wondering why they haven't reached out to you on a Friday night.
A guy's perspective on the manfunnel
In Matthew Hussey's book, Get the guy, this relationship expert explores similar territory. He talks about the "female propensity to select the most desirable male, which is in direct conflict with a man's tendency to select the next female."
Hussey says it's not that men don't want to "settle down", but rather that their instinct is to better explore all their options.
"A woman's instinct is to quickly discard men she doesn't like and settle on the one guy she likes the most," he shares in his book.
"Rather than concentrate on perhaps forcing a relationship with a single guy she still needs to get know better, she needs to spend more time with more guys before she narrows her focus."
In addition, Hussey echoes Weks' advice about women moving slowly and cautiously with multiple, prospective partners until they prove they're relationship-worthy, which only serves to make them more attractive to men.
"He sees that she's more discerning than to just rush into commitment with someone who hasn't really gone out of his way for her yet. He now begins to work for her. And as we know, everyone values what they work for."
Now, imagine the potential heartache, energy and time spent finding a great love we could have all spared ourselves, and our daughters, sisters and friends, with all the above great relationships advice?
A real-life successful "manfunneler"
One smart, strong, sassy and gorgeous singleton in her 40s who's putting all this advice and more to the test is *Sarah* (name has been changed to protect the innocent), a divorcee of two teenage children who has embarked on a journey of self-discovery and sexual adventures since recently splitting from her cheating husband of 20 years.
"I'm still learning a lot about men and relationships," she says, "and sharing all that information about the manfunnel concept with as many friends as I can.
"Until they show their worth, men are not relationship-worthy. Now, I'm all about taking my time when dating, leaning back, and looking at all my options.
"I really like the manfunnel concept and find it freeing."
What do you think about the manfunnel sex/dating concept?
Copyright © 2023 Nicole Carrington-Sima It is illegal to use any or all of this article without the expressed, written permission from Adult Match Maker and the author. If you wish to use it you must publish the article in its entirety and include the original author, plus links, so that it is clear where the content originated. Failure to do so will result in legal action being taken.
The content posted on this blog is intended for informational purposes only and the opinions or views within each article are not intended to replace professional advice. If you require professional relationship or sexual health advice you should consult with an appropriately trained and qualified specialist.